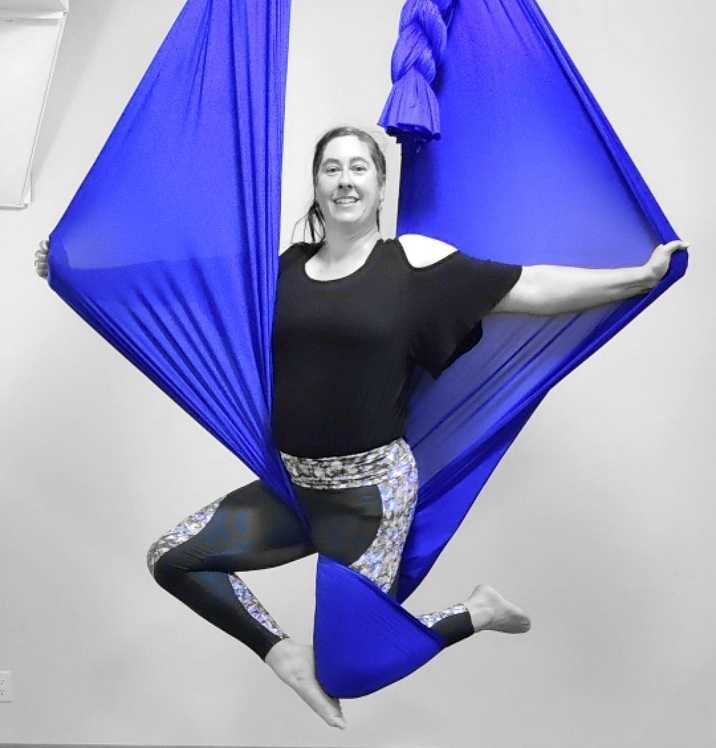 Now available on two different days of the week!
4 week aerial yoga workshops are now available Tuesday nights and now Saturdays from Noon to 1pm!
TUESDAYS 8-9PM | OCTOBER 3RD – 24TH AND
SATURDAYS 12-1PM | OCTOBER 7TH – 28TH

FOR ADULTS (14+) | $79 PER SERIES
Great for complete beginners or anyone who wants to get in the air again! I have a background as an aerial silks and sling performer with the Hamilton Aerial Group and Fly With Me Toronto, so I will be bringing you some wonderfully relaxing stretching and strengthening aerial yoga moves with a gentle circus twist!

Come play + get upside down for some anti-gravity benefits! This class is a Foundational Aerial practice, where students can get comfortable in the aerial hammocks. We will focus on proper alignment, muscle engagement, strengthening body awareness, and orienting your body in space using the aerial hammock.

We will be practicing yoga in two ways; feet on the ground AND feet off the ground (with your body suspended slightly above ground level). We'll be using the aerial hammock as a tool to help support our bodies so we can deepen our yoga postures. While practicing off the ground, we will learn some simpler inversions and aerial flow techniques allowing students to get comfortable with practicing yoga inside the hammock.

Expect a fun aerial yoga flow and to experience a full-body workout that's enjoyable to practitioners at any level of aerial experience!
I am also officially teaching the drop-in Friday series in the months ahead as well, and the link for that is on the Workshops page too.

You must register for this class in advance online. No drop-ins. No refunds for missed classes.
Just click on the button below and it will take you to the Workshops page at Circle Studios – just scroll down and sign up!